Purchase from your Remote app. Set up a player first
Amount of screens activated in your account.
If you want to add a fourth screen (in the case of standard plan), you must to delete one of the screens added to your account from the remote app
Cantidad máxima de pantallas que puedes tener vinculadas a tu cuenta.
Si la app no te permite añadir una nueva pantalla porque has alcanzado tu número máximo, siempre podrás liberar una eliminando otra pantalla de tu lista en tu app Wayhoy! Remote. Si cambias de dispositivo, elimina la pantalla creada con el anterior y podrás sincronizar la nueva.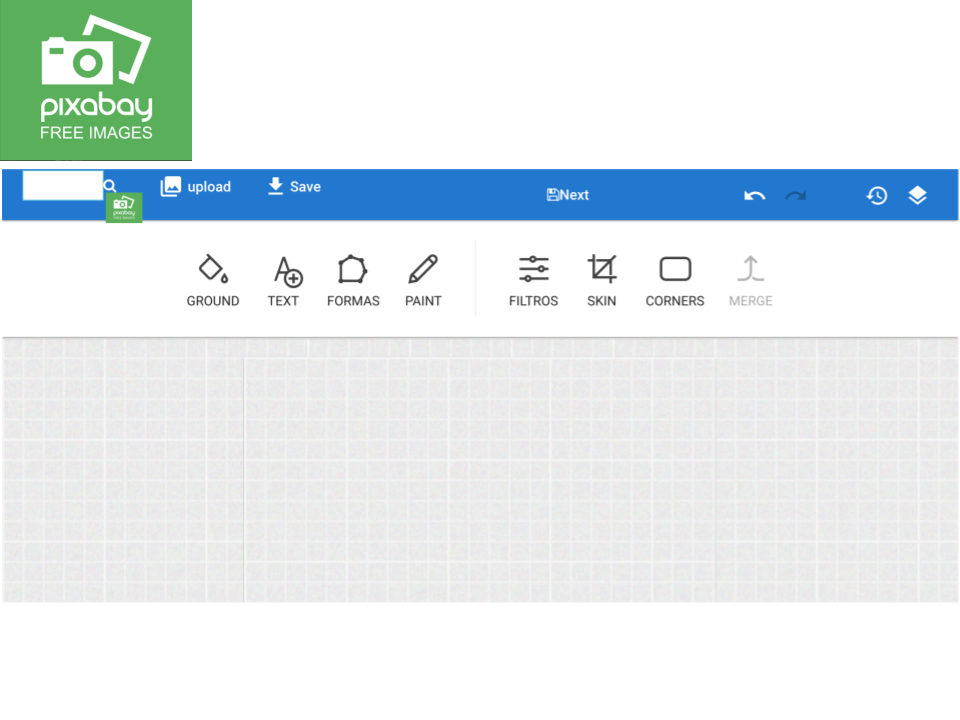 ---
Access to the more than 2 M of stock images from
Pixabay
to create your promos or artistic slideshows
---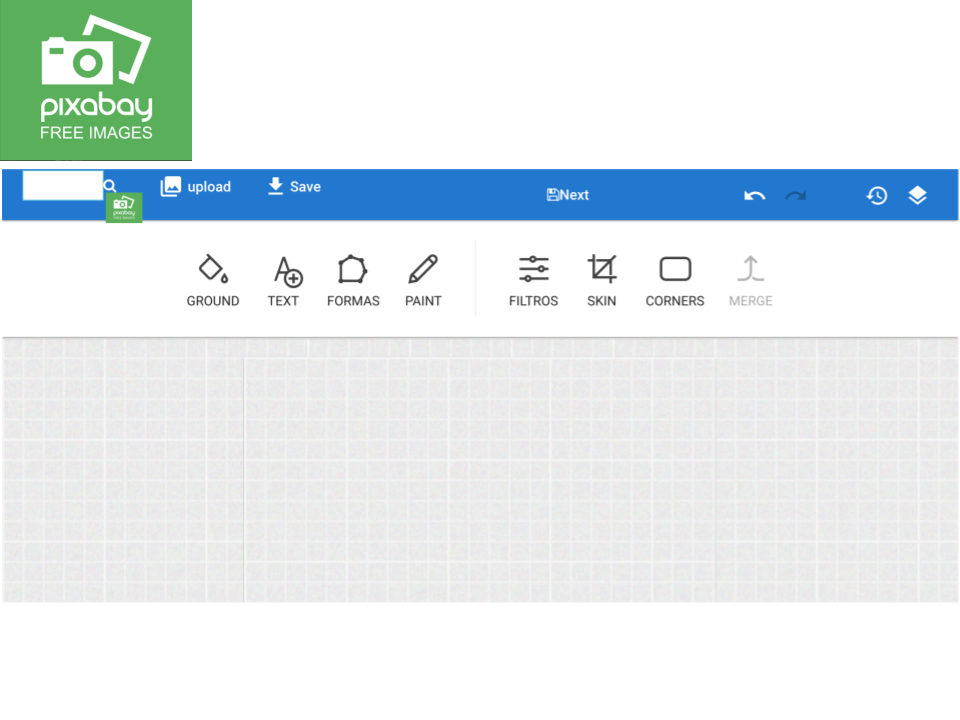 ---
Accede a los más de 2 M de imágenes del Stock de
Pixabay
para crear tus promos o un slideshow artístico
---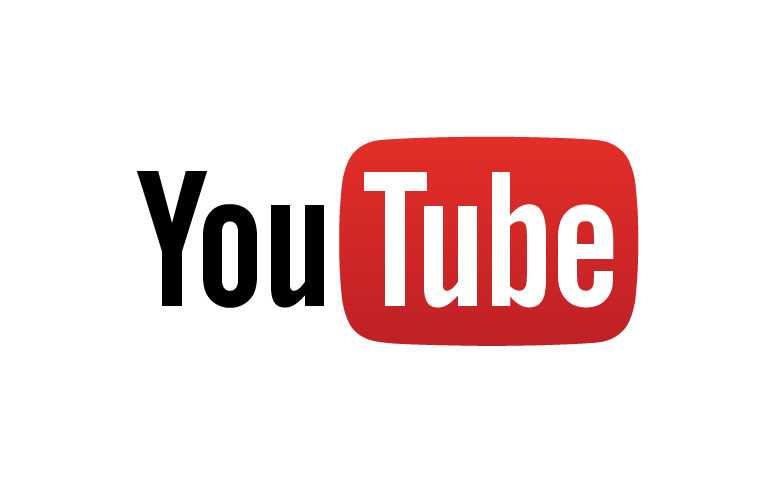 ---
Search Youtube vídeos from the remote app and select any to add to your
slideshow
After search and add preferred videos back to your playlist and send playlist to your TV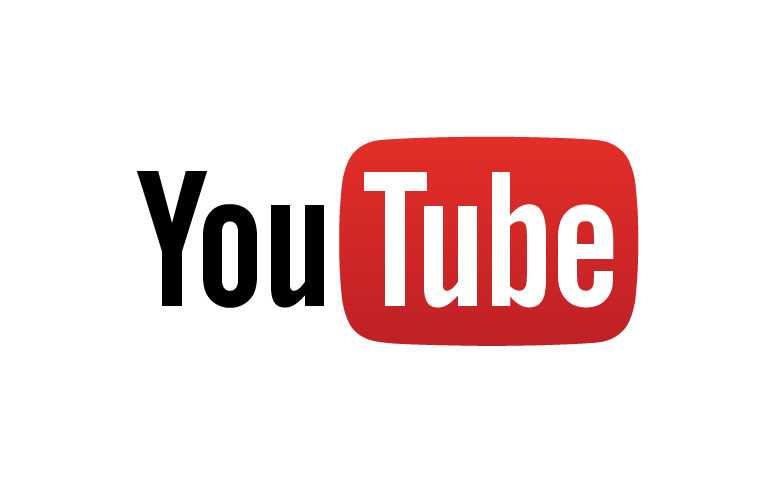 ---
Busca vídeos en youtube directamente desde la app Wayhly! Remote para seleccionarlos y añadirlos a tu
slideshow
Después de añadir los vídeos de una búsqueda puedes hacer otra búsqeda o volver a tu playlist donde verás los videos de Youtube que has añadido.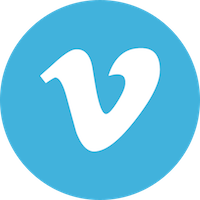 ---
Search Vimeo vídeos from the remote app and select any to add to your
slideshow
After search and add a video your remote app will back to your playlist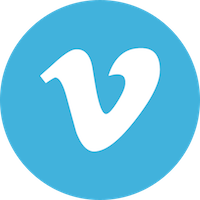 ---
Busca vídeos en Vimeo directamente desde la App Wayhoy! Remote y añádelos a tu
slideshow
Después de seleccionar un vídeo á app te llevará al álbum donde lo verás en primera posición.
Upload your own images or videos up to 15 MB per file and 500 MB totally
Sube tus imágenes y vídeos hasta 15 MB y 500 MB en total.
Upload your own images or videos up to 55 MB per file and 1.5 GB totally
Sube tus imágenes y vídeos hasta 50 MB y 1,5 GB en total.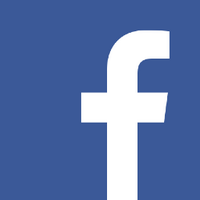 Facebook Photos
---
Paste the photo album url in the app and your playlist will show the latest images and text post in your screen in 11 sg slides in the quantity up to the total amount of second you gave to the item / 11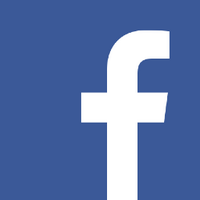 Facebook Photos
---
Pega la url de el photo album de Facebook y añade la duración. Se representará como un slideshow dentro del tuyo. Cada post durará 11 SG y aparecerán los últimos posts que quepan en el tiempo que le has dado al item Facebook.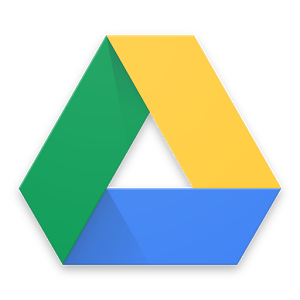 Google Drive Presentations
---
Paste the url of your Drive presentation to add your slideshow
* Wayhoy! hides the Drive player controls
* Choose the time between slides
* Be sure Your Drive presentation is published to the web
File->publish to the web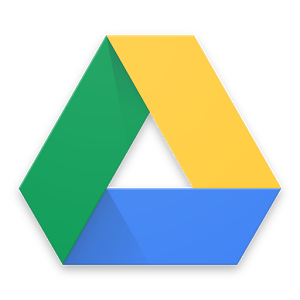 Presentaciones de Google Drive
---
Pega la url de tu presentación de Drive
* Wayhoy! oculta los controles del player
* Elige el tiempo de duración entre slides
* Asegúrate de que tu presentación está pública en la web
Archivo -> publicar en la web
Activate templates with a PiP effect.
You'll be able to search complete playlists and play them in an embedded player in random order.
Some devices not stand two videos in the same screen, so the album (playlist made by you with Wayhoy!) section should be composed by no video items
In the home of your remote app will appear a button called 'player' form where you can make searches and send results to the screen. You can search, Playlists, Channels or Live of any kind in youtube.
Some streaming contents will be incorporated.
It's possible you must make some editions in your playlist to take care about the new aspect ratio of the playlist, or even better, make a new playlist for that purpose.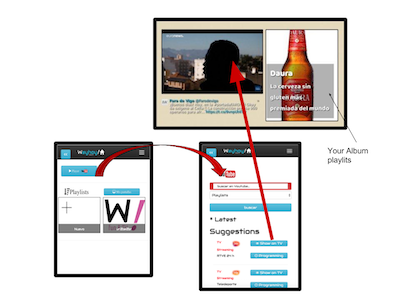 Activa plantillas con efecto PbP
Podrás buscar playlists completos y enviarlos al player de la plantilla que se representarán en orden aleatorio.
También podrás buscar directos y canales. Algunos dispositivos no soportan dos vídeos en la misma pantalla, así que asegúrate de que el album que aparece junto al player sólo tenga imágenes o elementos que no contengan vídeo.
Una vez que obtengas este nivel de suscrpción en el home de tu app aparecerá un boton que se llamará "player". Úsalo para buscar y enviar tus playlists a tus pantallas.
Iremos incorporando fuentes de streaming con contenidos generalistas para que puedas combinar en tu pantalla.
Con respecto a tus playlists creados hay que tener en cuenta que cambiará la relación de aspecto en el cuadro donde se representa. Tenlo en cuenta a la hora de crear o elegir el playlist para enviar a tu pantalla.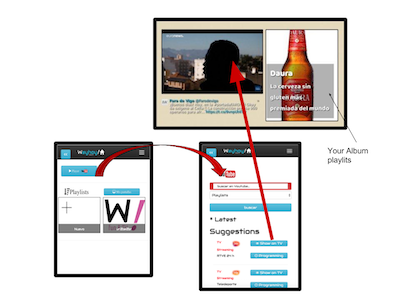 JukeBox
---
Choose this player template that will show a banner inviting your guests to search videos from their mobiles and send them to the screen with the result of building a playlists between every users
---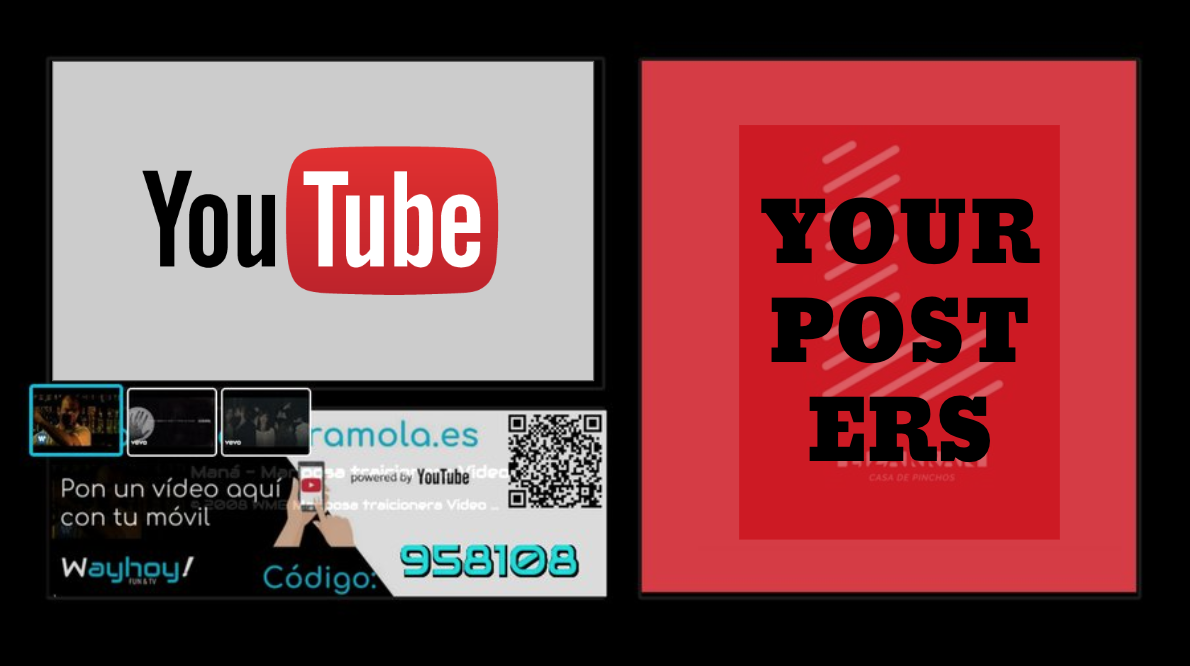 Videogramola
---
Elige esta plantilla dividida con player donde aparecerá un banner que invitará a tus espectadores a usar sus móviles y entrar en la aplicación videoramola para buscar vídeos que podrán enviar a tu pantalla creando entre todos un playlist
---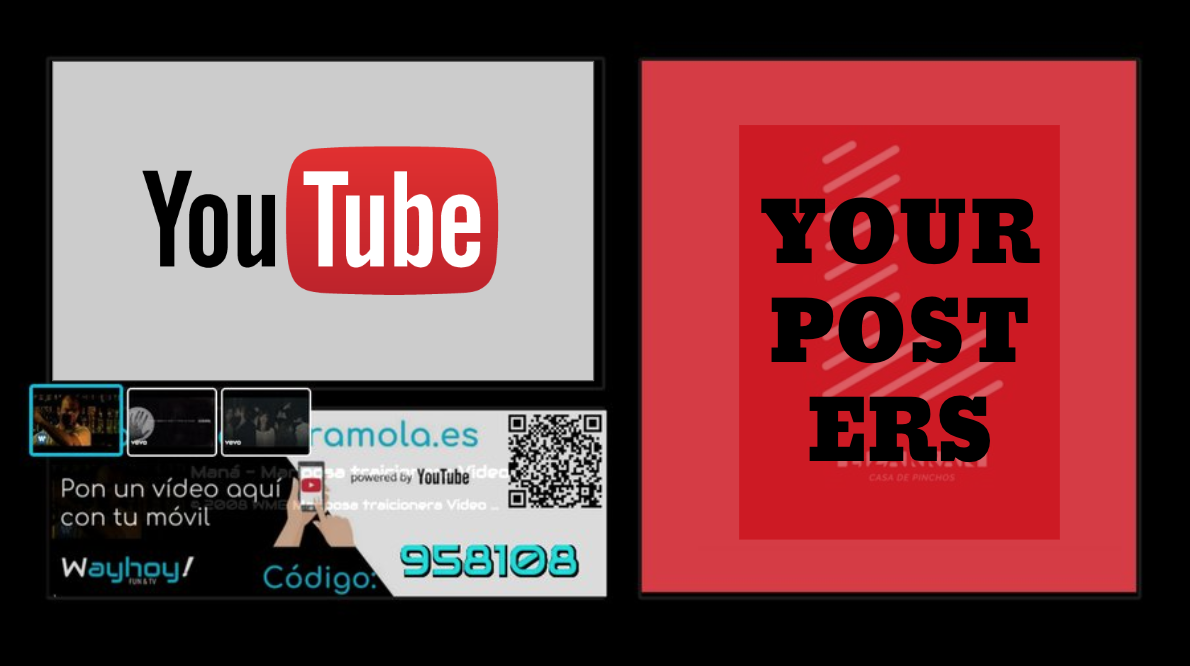 User management
Unlimited users and permissions
---
Create users and give them permissions for gadgets, templates, screens, albums or images
---
Gestión de usuarios y permisos
Crea usuarios iimitados y dales permisos para controlar pantallas, playlists y gadgets (subidas de archivos por ejemplo) e imágenes de tu galería.
---
Alerts
And alerts with contdown
---
Simply create a playlist called "alerts" and add items to it.
When you choose a created item you will see a box to introduce a number that will represent the contdown time in minutes
If you leave it the final alert appears inmediatelly, if is filled in the screen will show an alert, after that in a corner will appear a contdown with your image, the title and the description. When contdown finishes, will apperar an alert and the sub description you put for your image.
---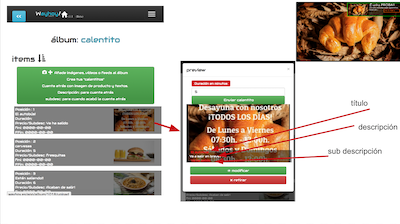 more info …(spanish)
---
Alertas
Y alertas con cuenta atrás
---
Sólo crea un playlist con el nombre "Alertas" y añade elementos a él
Si seleccionas uno de los elementos creados verás una caja que te permite añadir un número que representa los minutos de la cuenta atrás.
Si lo dejas en blanco aparecerá la alerta automáticamente.
Si lo has cubierto la imagen de tu elemento cubrirá la panalla con el título que le hayas asignado superpuesto.
Luego se recogerá y aparecerá en una esquina la imagen con el título y la descripción junto con una cuenta atrás
Cuando termina la cuenta atrás, la imagen comienza a parpadear junto con un sonido beep que sigue los parpadeoas, y mostrará el título y la sub descripcón.
---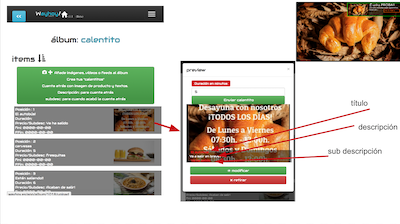 more info …(spanish)
---
Turns
Simple Ticket number Turn system
---
This gadget can be only used with the template maker gadget.
insert this gadget in your template and you will send + 1 or -1 turn or put the number from your app.
With the remote of your box you will be able to add or lees turns
---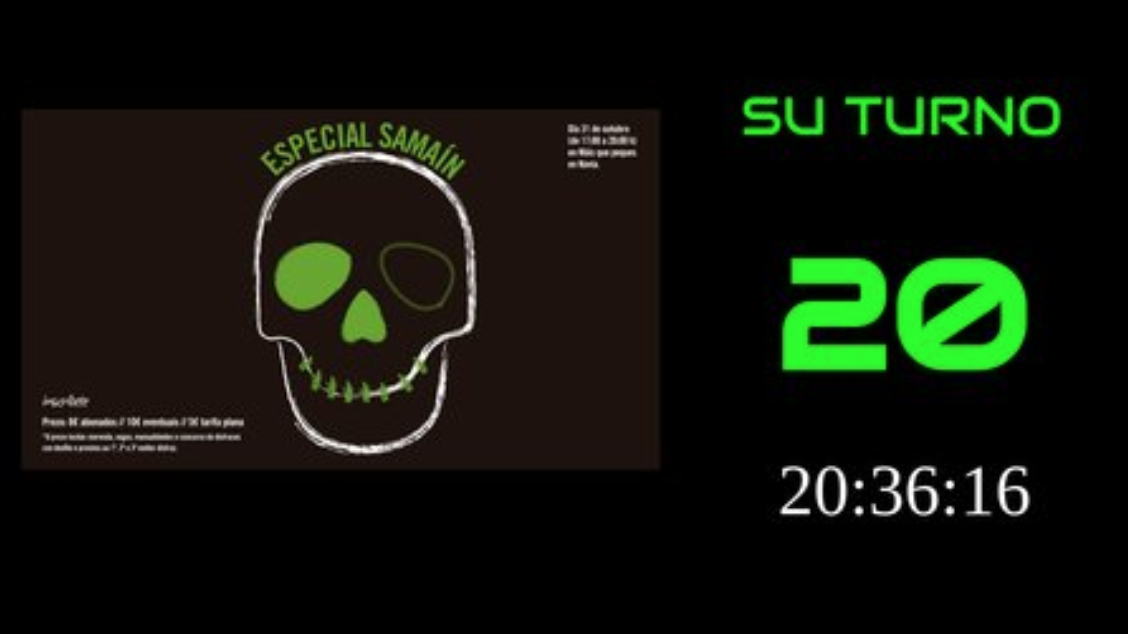 ---
Turnos
Sistema de turnos sencillo con dispensador de tikets
---
Esta funcionalidad sólo se puede utilizar con cuentas business o superior con el creador de plantillas
Inserta este gadget y podrás enviar desde tu remote app Wayhoy! el nº o sumar o restar de uno en uno en un bucle de 100 números.
Ti tu dispositivo tiene mando a distancia (Android TV, Amazon Fire) podrás usarlo para adelantar y o retrasar turnos.
---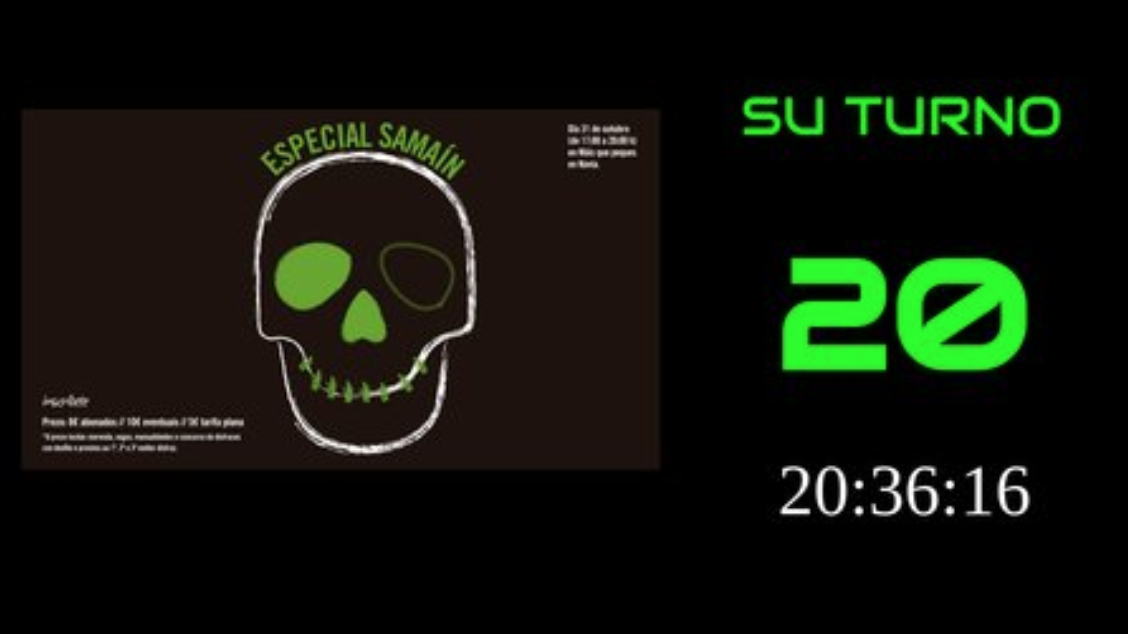 ---
Custom templates
Active template maker in your screen section
---
Drag and drop albums and gadgets to the layout
Under budget Wayhoy! will prepare for you the Video JukeBox template and the mobile app your users will use to search and send vídeos.
---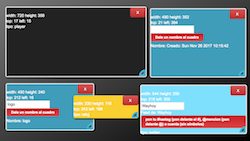 ---
Plantillas Ad Hoc
Puedes crear tus plantillas con el creador de plantillas de Wayhoy!
---
Drag and drop playlists y gadgets a tu layout
Personalización de las plantillas especiales como la gramola, así como la app móvil a la que acceden los usuarios para elegir sus vídeos,
Bajo presupuesto.
---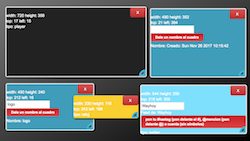 ---
Custom Gadgets
---
Wayhoy! team will prepare for you gadget customisations and new features Ad Hoc.

---
Gadgets Ad Hoc
---
El equipo de Wayhoy! preparará personalizaciones de los gadgets para tu negocio o presupestará a precios muy especiales nuevos gadgets personalizados para ti

---
Monitoring service
---
By default The Wayhoy! Remote App lets you know if your screens are connected or not, and reload the screen
With the Wayhoy! Box and an enterprise account you can see a real time screenshot, reboot, or switch on/off your device, and depending on TV or monitor model, swich on/off the screen.
Wayhoy! will make part of this job for you, and in addition we will monitor your devices, and the quality and updating of informations.
As business you may not forget halloween is finished (for example) to avoid the appearing of obsolete promos. Wayhoy! notifies it to you.
---
Servicio de monitorización
---
Para todos los tipos de suscripción Wayhoy! permite conocer si tus pantallas están conectadas o no
Con el Box profesional de Wayhoy! además podrás obtener capturas de tu pantalla en tiempo real y reiniciarlos vía web
Con este servicio además obtendrás los servicios de monitorización de Wayhoy! que controlan la calidad y actualización de los contenidos
Como negocio, no te puedes permitir que si se acaba Halloween (por ejemplo) permanezca en tu pantalla una promo obsoleta refería a él. Wayhoy! te avisará.
---
Scheduling
---
Both playlists and items
Program per week days and beginning time your playlists
Program single items (campaing f.E) per beginning day:time and finish day:time
---
Programación de contenidos
---
Tanto para playlists como para elementos
Programa playlists por días de semana y hora de inicio
Programa elementos de playlist (campañas) por día y hora de salida y día y hora de finalización
---
Subida de Pdf


---
Wayhoy! divide tu pdf en las diferentes hojas y las coloca en su mismo orden en el time line de tu playlist. Podrás pasar las hojas con el mando a distancia de tu Box TV
Pdf Upload


---
Wayhoy! uploads pdf files and creates an item per each page with same order and convert them in interactive, so that you can flip from the remote of your TV device .
---
Standard
(free plan)
Premium
Business
Enterprise
1
3
10
Unlimited
Uploads
–
Unlimited
Url
–
–
–
–
–
–
–
–
–
–
–
–
unlimited
unlimited
–
–
–
–
–
–
–
–
–
–
–
Free